Share: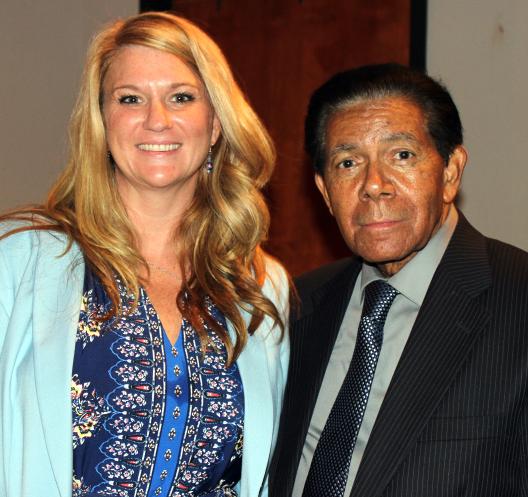 By Virginia Pierce, Public Services Librarian. Civil Rights photographer Cecil Williams spoke before a large gathering at the Charleston County Public Library's Main Branch on July 30, 2018, for the opening reception of his traveling photography exhibit Unforgettable: Celebrating a Time of Life, Hope, and Bravery.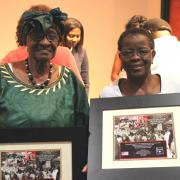 In his presentation, Mr. Williams reminisced about his experiences as a young photographer with a unique inside view of the American Civil Rights Movement. At 9 years old, Williams began capturing momentous Civil Rights events in South Carolina with his Kodak Brownie camera. At 14, he was hired by JET magazine as a correspondent and began contributing his work to JET, The Afro-American, the Pittsburgh Courier, and other African American publications. While on assignment for JET, Williams covered the Charleston Hospital Workers Strike which lasted 113 days in the spring and summer of 1969. Williams said he wore two cameras during the Strike marches so that he could send JET a set of pictures and retain some pictures of events to keep for himself. He reminded the audience that the Hospital Workers Strike took place just months after Martin Luther King, Jr. was assassinated and King's widow, Coretta Scott King, came to Charleston to continue his work. In fact, a photograph Williams took of Mrs. King at the Hospital Workers Strike was his only work that made the cover of JET magazine during his career. Other Civil Rights leaders such as Ralph Abernathy, Rosa Parks, and Andrew Young were among thousands who participated in the three month strike and are well-documented in Cecil Williams' photography.
Several retired nurses and nurse's aides who had taken part in the Charleston Hospital Workers Strike were in attendance with their families including Louise Brown, Vera Smalls Singleton, Priscilla Gladden, and Mary Grimes. Arnise Williams, daughter of the late Mary Moultrie, who served as President of the Local 1199 Union and was a leader in the Strike, also attended the program with many of her family. A few participants who had marched with their parents as children were present as well. All stood and were recognized and honored by Mr. Cecil Williams and Charleston Mayor John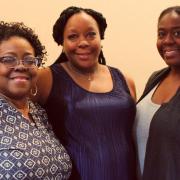 Tecklenburg for their participation in the historic workers strike 50 years ago. Mayor Tecklenburg said that the Hospital Workers Strike was one of the last big rallies of the Civil Rights Movement and was an intersection of economic justice and Civil Rights. He emphasized how important it is to tell the stories of those who took part in the Civil Rights struggles in South Carolina. He said they are stories that "haven't always been told and need to be told." Mayor Tecklenburg conferred a key to the City of Charleston to Mr. Williams to thank him for documenting the important stories and events of the Civil Rights Movement in South Carolina. South Carolina State Library Director Leesa Aiken reminded everyone of Mr. William's bravery and courage to place himself in the midst of danger over and over again in order to document events like the Charleston Hospital Workers Strike so that others around the world would know what was actually happening. She added "Cecil Williams' repeated acts of courage must have put his own life in jeopardy many, many times. His contribution truly is unforgettable."
Mr. Williams has donated his extensive collection of 250,000 black and white negatives and his papers to his alma mater Claflin University, which is in the process of digitizing his collection with a grant funded by the Gaylord and Dorothy Donnelley Foundation.
The Unforgettable: Celebrating a Time of Life, Hope, and Bravery photography exhibit will be on display at the Charleston County Public Library Main Branch through September 30th, 2018. It is sponsored by the South Carolina State Library, made possible with LSTA funds provided by the Institute of Museum and Library Services (IMLS), and through the generosity of Mr. Cecil Williams. If you would like to learn more about the traveling exhibit and to see about hosting the exhibit at your library, contact Ashley Till at the South Carolina State Library at atill@statelibrary.sc.gov or (803) 734-8625.
Photos: Top-State Library Director Leesa Aiken with Cecil Williams. Middle-Louise Brown (left) and Vera Smalls Singleton (right) particpants of 1969 Charleston Hospital Workers Strike. Bottom-Arnise Moultrie (left) daughter of Mary Moultrie with other family members.