Share: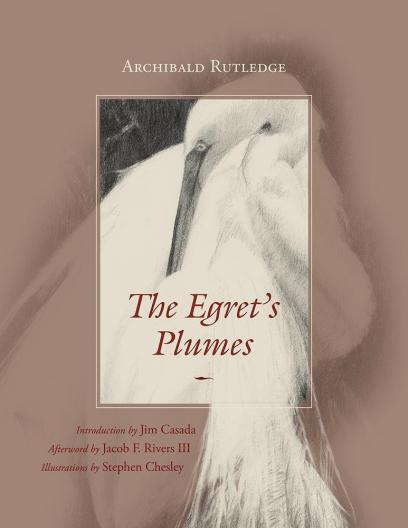 Join us for this month's author talk and book signing with Stephen Chesley, Jim Casada, and Jacob Rivers for The Egret's Plumes published by USC Press. An inspiring illustrated story that illuminates the lessons the natural world has to offer. Thursday, January 26, 2017, noon-1:00 p.m.
Archibald Rutledge's suspenseful story "The Egret's Plumes" is a cautionary tale exalting the virtues of good sportsmanship, conservation of the natural world, and the universality of parental instincts. Fleeing the relentless plume hunters of their native Florida, a pair of exquisite snowy egrets make a new home—and then a new family—in the South Carolina lowcountry swamps of Blake's Reserve. When the male egret is killed by a poacher, the female is left to defend her nest and raise their hatchlings. Will Ormond, a restless and reckless hunter and heir to the reserve's plantation, spots the surviving egrets after a day of disappointments with his original prey. As he wades into the swamp to gain a better position for his kill shot with his only remaining cartridge, Will comes to recognize elements of his relationship with his own mother in the selfless devotion of the female egret to her young. In this moment of uncharacteristic hesitation, he also realizes that he is no longer alone in the brackish waters of the reserve and that the hunter may have become the hunted. 
"The Egret's Plumes" is an inspiring, allegorical narrative that illuminates the pitfalls awaiting immoral acts and the saving virtues of selflessness and compassion. This short story was written for publication in an early twentieth-century boy's magazine and was first collected in the privately printed Eddy Press edition of Old Plantation Days (c. 1913). Limited to just a few hundred copies, the Eddy Press edition is highly prized by Rutledge collectors and includes five stories—"Claws," "The Doom of Ravenswood," "The Egret's Plumes," "The Heart of Regal," and "The Ocean's Menace"—not found in the more widely available 1921 Stokes edition of Old Plantation Days. 
A project of the Humanities Council SC benefiting South Carolina literary programs, this new edition of The Egret's Plumes is illustrated in handsome charcoal etchings by Southern artist Stephen Chesley. Award-winning outdoors writer and noted Rutledge scholar Jim Casada provides the volume's introduction, and outdoors writer and author Jacob F. Rivers III offers an afterword.
Archibald Rutledge (1883–1973) was South Carolina's most prolific writer and the state's first poet laureate. His nature writings garnered him the prestigious John Burroughs Medal.
Jim Casada has written or edited more than forty books, contributed to many others, and authored some five thousand magazine articles. Casada has edited five Rutledge anthologies—Hunting and Home in the Southern Heartland, Tales of Whitetails, America's Greatest Game Bird, Carolina Christmas, and Bird Dog Days, Wingshooting Ways. A past president of the South Carolina Outdoor Writers Association, the Southeastern Outdoor Press Association, and the Outdoor Writers Association of America, Casada has been honored with more than 150 regional and national writing awards. He serves as editor at large for Sporting Classics magazine.
Jacob F. Rivers III is the director of the Office of Veterans Services at the University of South Carolina and teaches Themes in American Writing in the Department of English. Rivers is the author of Early Southern Sports and Sportsmen, 1830–1910 and Cultural Values in the Southern Sporting Narrative (both published by the University of South Carolina Press).
Stephen Chesley is a semiabstract artist working primarily in oils, charcoal, and metal. His work has been featured in solo and group exhibitions and has been honored with a fellowship from the National Endowment for the Arts. Chesley's previous collaborations with the Humanities Council SC were Archibald Rutledge's Claws, The Doom of Ravenswood, and an illustrated chapbook edition of the Julia Peterkin short story "Ashes" in 2012.
All programs take place from noon to 1:00 p.m. at the South Carolina State Library, 1500 Senate Street, Columbia. Please visit our map & directions page or call 803-734-8666 for parking information. For more information about Speaker @ the Center, please visit ReadSC.org. Speaker @ the Center is FREE and open to the public. No registration is required. Books will be available for purchase and signing. For more information, please contact Dr. Curtis Rogers, Communications Director at 803-734-8928 or crogers@statelibrary.sc.gov.