Share: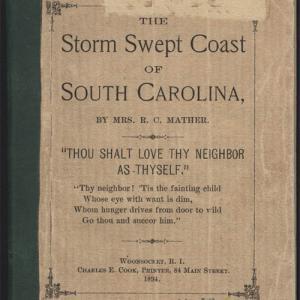 The public can now view two new historical digital collections, thanks to a continued partnership with the Beaufort County Library's Beaufort District Collection (BDC) and the Lowcountry Digital Library (LCDL).
The BDC has maintained a relationship with the South Carolina Digital Library and its LCDL arm since 2004 when the Beaufort County Library was a pilot for the inclusion of special collections materials cared for by public libraries in the South Carolina Memory project. The two new collections join the Beaufort County Library's 848 images currently hosted online by the LCDL. Images from the Beaufort County Library's special local history unit remain the most consistently accessed digital items in all of the LCDL.
The digital collections are available here:
The Storm Swept Coast of South Carolina - This collection describes damage and recovery efforts in Beaufort, South Carolina, and the surrounding coastal area after the hurricane of August 27, 1893. Accounts from hurricane survivors describe the destruction of homes, crops, boats, wharves, bridges, railroads, and other infrastructure in the area. Interspersed throughout the 14 chapters of the book are poems and biblical passages, reflecting author Rachel C. Mather's deep religious faith.
Beaufort Hurricane of 1893 Photograph Collection - This collection features 20 photographs that record the damage caused by the hurricane that swept through Beaufort County on August 27th, 1893. Images captured include wrecked and stranded ships and steamers, including the "City of Savannah," damaged buildings and wharves and a debris-covered Bay Street.
The Beaufort District Collection continues its partnership with LCDL in 2016 -- Stay tuned for the launch of the Arnsberger postcard collection in May and a Civil War stereoscope collection in the fall.
About the Beaufort District Collection
The purpose of the Beaufort District Collection is to acquire, preserve, maintain and make accessible a research collection of permanent value that records the history of the area of lowcountry South Carolina known as the old historic Beaufort District. We have biographies, nonfiction books, video materials and archival collections about local history including Gullah traditions, natural history, archaeology, genealogy, and other topics relevant to Beaufort, Hampton and Jasper Counties. The Research Room is intended to be used by customers who perform their own research. Our philosophy of service is to offer as many free services as possible to those who are interested in learning more about the history, culture, and environment of Beaufort District.