Posted by Curtis Rogers, Tuesday, Mar 22nd, 2016
Share: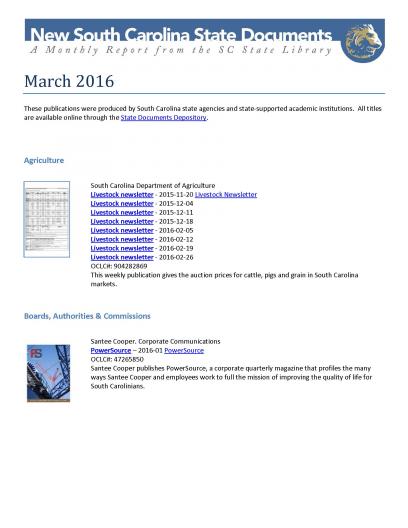 The South Carolina Digital State Documents Depository provides access to publications produced by state agencies and state-supported academic institutions. These publications provide citizens with crucial information about state government, including statistics, annual accountability reports, and data on a wide variety of topics related to the state. The new March 2016 South Carolina State Documents publication provides a description, author, and link to the full-text for each new agency document.
This month, we highlight the South Carolina Commission for Minority Affairs report titled Statistical Profile By Counties. This report  provides information regarding the socio-economic status of minorities and their contribution to the overall socio-economic prosperity of the state. Fact sheets address the status of poverty, income, single parent families, educational attainment, child birth rates, drug use, the criminal justice system, unemployment, and state assistance programs.