Share: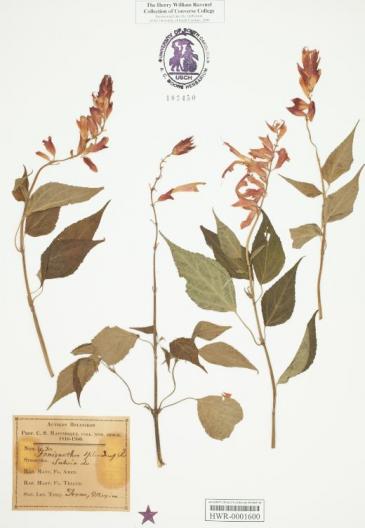 Two hundred and two years after the May 1814 birth of Henry William Ravenel, a 19th century South Carolina planter and botanist, a dedicated team from North Carolina and South Carolina universities and colleges has made his manuscripts and collections available online.
This new resource, Plants and Planter: Henry William Ravenel and the Convergence of Science and Agriculture in the Nineteenth Century South, digitally reunites 6,200 botanical specimens Ravenel collected and more than 3,000 pages of his manuscripts, all of which are currently housed by a variety of higher education institutions throughout the Carolinas.
Now Ravenel's extensive plant collection, thirteen journals spanning 1859-1887, his personal photo album and more than 400 of his letters can be searched, accessed and studied from one central location.
Plants and Planter is the result of a two-year collaborative effort by librarians, archivists, botanists, curators, conservators, imaging specialists, web developers and GIS specialists from the University of South Carolina, Converse College, Clemson University and the University of North Carolina at Chapel Hill. USC departments including the AC Moore Herbarium, the Center for Digital Humanities, University Libraries Digital Collections and the South Caroliniana Library have been involved in the project from its inception in 2014 to the launch of Plants and Planter in May 2016. Plants and Planter was funded through an $84,870 grant from the National Endowment for the Humanities.
Henry William Ravenel was born in Pineville, South Carolina in present-day Berkeley County. He studied at South Carolina College (now USC) from 1829 to 1832. After graduation he returned to the Lowcountry and became a planter who encouraged crop experimentation, soil analysis, and the examination of native botany, scientific analysis and publication of findings to promote new approaches to southern agriculture. Ravenel developed a keen interest in botany — mycology (the study of fungi), in particular — as a leisure time activity to satisfy his intellectual curiosity.
The Civil War brought financial ruin to Ravenel because the agricultural economy was destroyed. In 1853 he moved to Aiken, South Carolina where he continued to collect and compile plant specimens and earned a living by operating a nursery and seed business, publishing a newspaper, and writing for agricultural journals.
Ravenel's five-volume sets of dried fungal specimens he collected, Fungi Caroliniani Exsiccati (1853-1860) and his contributions to the eight-volume series Fungi Americani Exsiccati (London, 1878-1882) with English botanist M.C. Cooke, were widely distributed on a subscription basis. The prominence of these publications established him as the leading authority in the world on American fungi and a contributor to botanical knowledge.
Although Ravenel wanted his life's work to remain intact after his death, his widow sold parts of his plant collection to the British Museum and Converse College. The last intact portion of Ravenel's collection is at USC's AC Moore Herbarium, and many of his manuscripts and photographs are housed at USC's South Caroliniana Library. 
All the contents of Plants and Planter can be browsed by plant specimens, people and organizations, locations and dates, and are keyword searchable. Search results display both Ravenel's scanned written documents and plant specimens along with a typed transcription of the contents in a side-by-side view, preserving the aesthetic beauty of the originals and ensuring the accuracy of information to the modern scholar. Plants and Planter also offers maps of geographic areas throughout the US and world that reflect the density of Ravenel's collection and his travels.
Plants and Planter can be accessed at http://ravenel.cdh.sc.edu.
For more information, contact Kate Boyd, Digital Initiatives Coordinator at the University of South Carolina Libraries and Program Director for the South Carolina Digital Library at 803-777-2249 or boydkf@mailbox.sc.edu.