Share: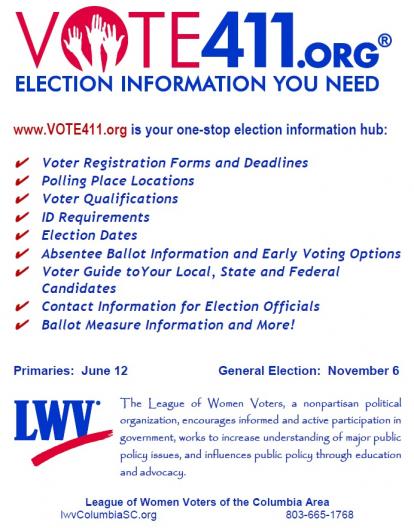 The League of Women Voters (LWV) of the Columbia Area announced the launch of the nonpartisan election resource VOTE411.org on May 22 10:00 a.m. at Richland Library. This "one-stop-shop" for statewide election information provides simple, helpful tools to help South Carolina voters navigate the voting process for the June 12 primaries through the November 6 general election. VOTE411.org provides candidate information, voter registration tools, polling place information and other helpful Election Day information.
"Voters in the Columbia Area are able to type in their address and see their personalized ballot," said Janelle Rivers, President of LWV of the Columbia Area. "VOTE411.org is the nation's premier online election resource, and the League of Women Voters of the Columbia Area has added our voters' guide to VOTE411.org so that it can serve as a resource for all Richland and Lexington County voters." The state League of Women Voters is producing a voters' guide for state offices. In addition, local Leagues in Beaufort, Charleston, Clemson, Darlington, Greenville, Hilton Head/Bluffton, and Spartanburg are providing voting guides for their respective areas. So far this year, over 325,000 individuals have visited the Vote411 website nationally, and use is outpacing 2016.
"It's convenient, easy and invaluable for voters who want to learn about which offices they will be voting on, compare candidate responses on important issues and see if there will be other items on their ballot," concluded Janelle Rivers. "We encourage everyone to prepare for Election Day by reviewing the information on VOTE411.org. Then we urge them to vote in the primaries on June 12 and the general election on November 6."
The South Carolina State Library has shared information about the availability of this website with public and academic library directors via email so that library staff will be aware of the website and may share it with the general public.
The League of Women Voters, a nonpartisan political organization, encourages informed and active participation in government, works to increase understanding of major public policy issues, and influences public policy through education and advocacy. Membership is open to men and women of all ages. With 800 affiliates across the county, the League is one of the nation's most trusted organizations.