The South Carolina State Library provides dog therapy literacy sessions to libraries, schools, hospitals, and other organizations to promote reading, literacy, and the services and programs of the South Carolina State Library. Ellen Dunn, Public Information Coordinator, along with Katie, her Australian Shepherd, coordinates the project.
How is Katie certified?
Katie is certified through Therapy Dogs International (TDI) in the Tail Waggin' Tutors reading program. The main objective of this program is to provide a relaxed and "dog-friendly" atmosphere, which allows students to practice the skill of reading. Many of the children chosen for this program have difficulties reading and as a result have developed self-esteem issues. They are often self-conscious when reading aloud in front of other classmates. By sitting down next to a dog and reading to the dog, all threats of being judged are put aside. The child relaxes, pats the attentive dog, and focuses on the reading. Reading improves because the child is practicing the skill of reading, building self-esteem, and associating reading with something pleasant.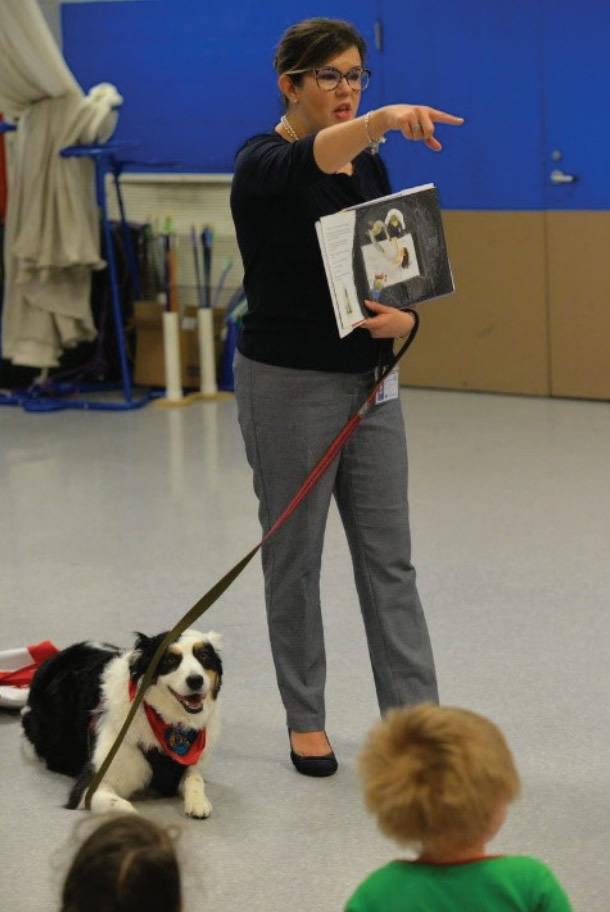 How SCSL works with Libraries
Ellen and Katie can visit public and academic libraries to provide sessions for children's programs as well as for college students who need to de-stress during exam times.
How SCSL works with Schools
Ellen and Katie can visit school districts and individual schools to work with students and educators who want assistance with learning more about the program as well as working with students on reading and literacy issues.
How SCSL works with Senior Citizens
Ellen and Katie can visit assisted living facilities, nursing homes, hospitals, and other organizations, accompanied by Talking Book Services (TBS) staff member(s), to work with seniors on reading and literacy issues, as well as, promote TBS reading services and programs.
Telephone Tales
You may also call our Telephone Tales storyline at (803) 734-1110 anytime. We bring you a rotation of Katie's favorite stories. This 24-hour storyline is our way to encourage reading even when we cannot offer one-on-one sessions.