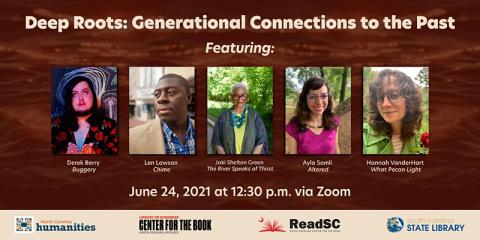 Join
North Carolina Humanities
and
South Carolina Center for the Book
on June 24, 2021, at 12:30 p.m., for
Deep Roots: Generational Connections to the Past
featuring authors Derek Berry, Len Lawson, Ayla Samli, Jaki Shelton Green, and Hannah VanderHart in conversation about how their roots as Carolinians have shaped their writing and personal experiences.
Registration
is free and the event will conclude with an audience Q&A. This conversation is the first in a three-part author talk exploring place and identity in the Carolinas and is made possible by NC Humanities Center for the Book and South Carolina Center for the Book; affiliates of the National Center for the Book in the Library of Congress. For more information, please contact Andersen Cook at
acook@statelibrary.sc.gov
.