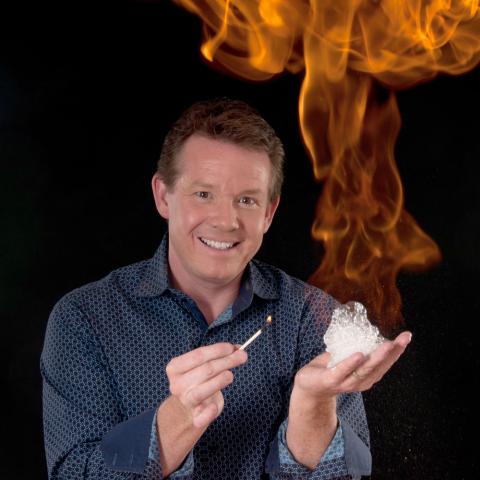 Calling all SC Public Library staff members! Register today to join us online on December 1, 2020, from 9:00 a.m. to noon for an amazing experience. This workshop is going to be so popular, we're having to limit to two attendees per SC public library system. We're very fortunate to be able to bring you Steve Spangler's 5 Days of STEM. In this interactive experience, Steve Spangler will have you participating in more than 30 hands-on experiments to illustrate best practices, instructional strategies, and high-level engagement techniques to help strengthen skills of communication, collaboration, critical thinking, and creativity. The content is organized around 5 daily themes:
Test Tube Adventures (color and density),
Electricity & Circuits (insulators, conductors, experimental design),
Bubble Science (scientific method, mixtures, solutions),
Water Magic (chemistry, environmental science, inquiry)
Newton's Antics (force and motion)
Each participant will receive a workshop kit that includes all of the tools and resources to conduct more than 30 hands-on experiments that can be used in the library. Participants will come away with a better understanding of the national STEM initiative and solid examples of how to better integrate elements of the scientific method and the design model into every aspect of their daily curriculum. Plus, the hands-on activities are themselves a powerful illustration of instructional strategies to better teach the scientific method, the inquiry model (guided inquiry to self-directed inquiry), experimental design, the failure model and more.
PLEASE NOTE: registration will close on November 17, 2020, so that participants can be mailed activity supplies.
Steve Spangler is a best-selling author, STEM educator and business leader branded by TIME Magazine as one of their "most influential people of the year" because of his passion to inspire the next generation of scientists and engineers. With more than 1,500 television appearances and multiple Emmy awards to his credit, Steve is also a regular guest on the Ellen DeGeneres Show where she dubbed him America's Science Teacher. Steve's catalog of videos featured on YouTube, Facebook, Instagram, and now TikTok have close to 1 billion views, and his books and online experiments are widely used by parents and educators to increase student engagement and inspire young scientists to learn more about STEM-based careers.
Register today! For more information, please contact Rebecca Antill, SCSL Youth Services Consultant, at rantill@statelibrary.sc.gov.