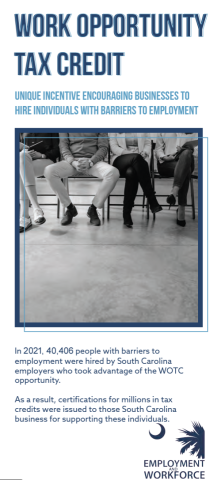 It's impressive when state agencies break down complicated topics, making them easy to understand. That's what the South Carolina Department of Employment and Workforce does with the Work Opportunity Tax Credit brochure, making it our choice for the October featured state document. The text, laid out in easy-to-read sections, is accompanied by an acronym guide for those letter combinations that, although helpful, may not be familiar to all users. The success story, featuring a South Carolinian who, along with his employer, benefited from the program, prompts readers to want to take the necessary steps to apply.
The complete list of new electronic South Carolina state documents is available. The South Carolina Digital State Documents Depository provides access to state agencies' publications. These publications provide citizens with crucial information about state government, including statistics, reports, and data on a wide variety of topics related to the state.
For more information about our documents depository, visit our online guide.