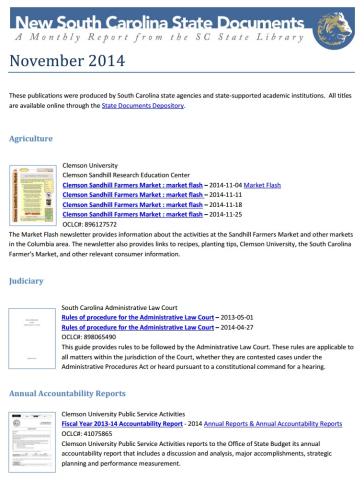 The South Carolina Digital State Documents Depository provides access to publications produced by state agencies and state-supported academic institutions. These publications provide citizens with crucial information about state government, including statistics, annual accountability reports, and data on a wide variety of topics related to the state. The new South Carolina State Documents monthly publication provides a description, author, and link to the full-text for each new agency document published in November.
This month features many Certified Public Manager (CPM) Program projects, reports written by program participants of the CPM program of the South Carolina Budget and Control Board, Office of Human Resources. The CPM Program is a nationally accredited management development program for managers and supervisors in South Carolina state government.
The Clemson Sandhill Research Education Center in Columbia also published a weekly newsletter with information about its seasonal Farmers Market. The newsletter includes home and garden tips, photographs, and recipes.