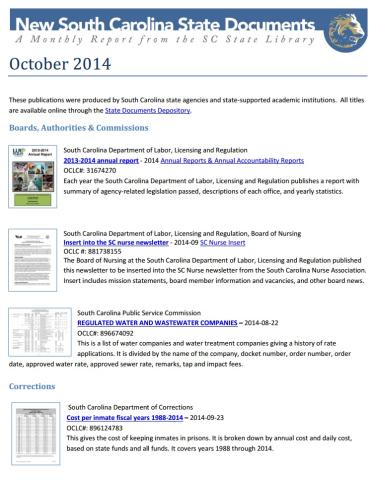 The South Carolina Digital State Documents Depository provides access to publications produced by state agencies and state-supported academic institutions. These publications provide citizens with crucial information about state government, including statistics, annual accountability reports, and data on a wide variety of topics related to the state. The new South Carolina State Documents monthly publication provides a description, author, and link to the full-text for each new agency document published in October.
This month features many annual accountability reports from state agencies. Each year, state agencies report to the Office of State Budget a yearly accountability report with discussion and analysis, major accomplishments, strategic planning, expenditures, and performance measurements.

The South Carolina Department of Commerce also published a series of brochures on industries in the state such as aerospace industry, bioscience, and small business. These brochures list the economic impact, other statistics, and contact information for the agency.