Share: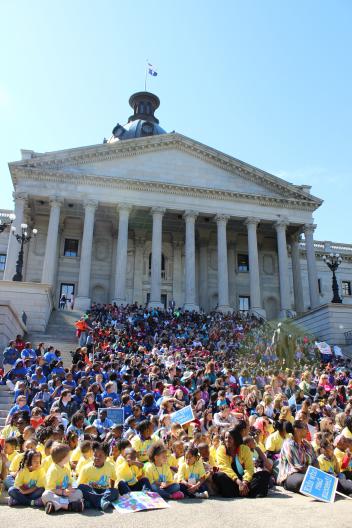 This annual event, sponsored by the South Carolina Association of School Librarians and the South Carolina State Library, lets students show why kids who read succeed. Each year, a specific theme is selected by the planning committee. Participants are encouraged to bring their favorite book to read on the State House grounds after the event and some even dress as their favorite literary character.
Registered student groups gather in the State Library's parking lot at 1500 Senate Street between 9:15 a.m. and 9:30 a.m. The parade to the State House begins promptly at 10:00 a.m. and the route follows Senate Street to the State House. At the State House there is a brief program followed by special entertainment and reading in small groups. The Read-In then ends at noon. Each group is responsible for providing their own reading material, banners, or signs.
Registration deadline is April 9, 2018. To register your group and learn more, please visit http://readsc.org/read-in or contact Andersen Cook, Statewide Initiatives Coordinator at acook@statelibrary.sc.gov or 803-545-4432.