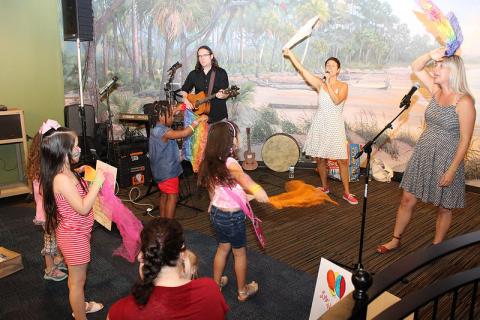 Are you interested in learning about potential performers for your Summer Reading Programs or other library programs? Have you ever wished you could meet performers in person, ask some questions and see if they are the right fit for your audience? The 2017 Performer Showcase is your opportunity! This year's showcase will feature more than 20 performers, each given 15 minutes for set up, perform, and breakdown. Performers will also be available in a separate information room to meet and greet attendees during breaks.
The purpose of the Performers Showcase is to give librarians a chance to see quality performers in action. This is an opportunity to get a sample of what a program may look like in a library setting before deciding to hire them. The Performers Showcase is open to any children's librarians, teen librarians, school media specialists, and anyone who might be looking to meet and evaluate a variety of performers.
The 2017 SC Performer Showcase will be held from 10:00 a.m. to 4:00 p.m. on Friday, October 27, 2017 at the Richland Two Institute Of Innovation (R2i2) in their large capacity auditorium.
This event is free, but you do need to register. Please click here to register online.
Lunch will not be provided - there are numerous restaurants in the area to enjoy.