Share: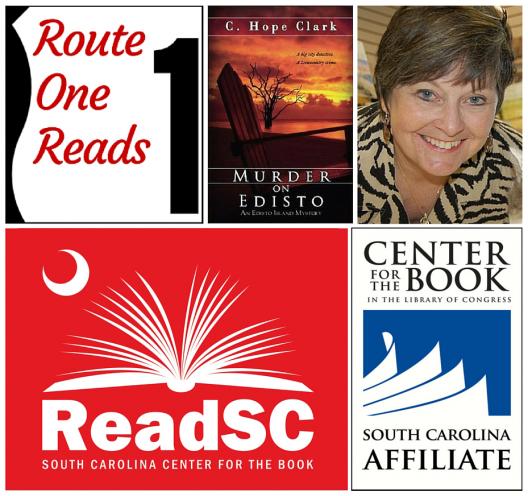 For the second consecutive year, the SC Center for the Book will participate in the Route One Reads initiative, a program under the Center for the Book in the Library of Congress. 
In 2016, the theme of the initiative will be mysteries, and the selected book to represent South Carolina is Murder on Edisto by SC author, C. Hope Clark.
"I cannot imagine a book without a strong sense of place, and since I adore my state, I wrote the Edisto Island Mystery Series to symbolize a lot of what I love about South Carolina's Lowcountry. But never did I ever dream that my passion would warrant selection by the SC Center for the Book," Clark said. "Happy does not describe the feeling . . . more like honored . . . and blessed that I can write mysteries about my home that others appreciate."
About Murder on Edisto
A big city detective. A Lowcountry murder. Peace, safety, a place to grieve and heal. After her husband is murdered by the Russian mob, Boston detective Callie Jean Morgan comes home to her family's cottage in South Carolina. There, she can keep their teenage son, Jeb, away from further threats.  But the day they arrive in Edisto Beach, Callie finds her childhood mentor and elderly neighbor murdered. Taunted by the killer, who repeatedly violates her home and threatens others in the community, Callie finds her new sanctuary has become her old nightmare. Despite warnings from the town's handsome police chief, Callie plunges back into detective work, pursuing a sinister stranger who may have ties to her past. He's turning a quiet paradise into a paranoid patch of sand where nobody's safe. She'll do whatever it takes to stop him. 
Curtis Rogers, coordinator of the SC Center for the Book and SC State Library Communications Director said he was "happy to have C. Hope Clark's book represent the state this year."
"Even though Edisto Island isn't right on Route 1, we hope travelers and readers alike will venture off the main roads, explore the state's Lowcountry region, and enjoy a great mystery along the way," Rogers said.
The diverse reading list created by Route One Reads highlights each individual State Center for the Book while celebrating the East Coast as a whole. By participating in Route One Reads, readers can travel across 15 states and the District of Columbia without taking a single footstep, or load selected books into the car for a literary road trip. The full list of featured books for the 2016 Route One Reads initiative is available along with a map of participating states at Route1Reads.org.
Route One Reads is a partnership between the Center for the Book in the Library of Congress, and its affiliate Centers for the Book in the following states: Connecticut; Delaware; Florida; Georgia; Maine; Maryland; Massachusetts; New Hampshire; New Jersey; New York; North Carolina; Pennsylvania; Rhode Island; South Carolina; Virginia; and, Washington, DC.