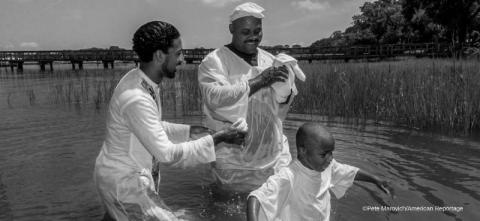 Shadows of the Gullah Geechee by Pete Marovich is curated by American Reportage.
The South Carolina State Library will host documentary photographer Pete Marovich's "Shadows of the Gullah Geechee" photo exhibit from February 2 to March 30. The exhibit may be viewed during the Library's hours of operation: Monday - Friday, 8:30 a.m. to 5:00 p.m.
The work explores the lives and culture of the Gullah Geechee people in communities from Hog Hammock on Sapelo Island, Ga., to Mosquito Beach on Sol Legare Island, S.C. The project captures everyday moments of work, play, worship and resilience of the Gullah Geechee people as they are under increasing pressures from encroaching development and rising taxes.
Seventeen images from Shadows of the Gullah Geechee, have been accepted in the permanent collection of the Smithsonian National Museum of African American History and Culture. A selection of images from this collection are also part of the permanent collection at the McLeod Plantation Historic Site on James Island, S.C.
SCSL Deputy Director of Statewide Development Denise Lyons said she was honored that the library could host this compelling gallery.
"We at the State Library are interested in the many cultures that have enriched our state. These photographs capture the everyday moments of work and life of the Gullah Geechee people and demonstrate the poignancy of the struggle between historic and cultural preservation, and modern development," Lyons said. "We are pleased to host this compelling exhibit bringing recognition, education, and awareness about our contemporary Gullah and Geechee communities."
Artist Bio: Award-winning photojournalist Pete Marovich has been working as a professional photographer for 30 years since starting as a staff photographer at a medium-sized daily newspaper in Indiana and as a stringer for the Associated Press. His photography has appeared in Time Magazine, The New York Times, Newsweek, The Financial Times, The Christian Science Monitor, Esquire, The Wall Street Journal, Mother Jones, Sports Illustrated, Woman's World, The Huffington Post, Politico, Essence, Bloomberg Businessweek, The Chronicle of Higher Education and The Daily Beast. He is a founding member of the photography collective, American Reportage.
For more information on Pete Marovich, visit his website.