Share: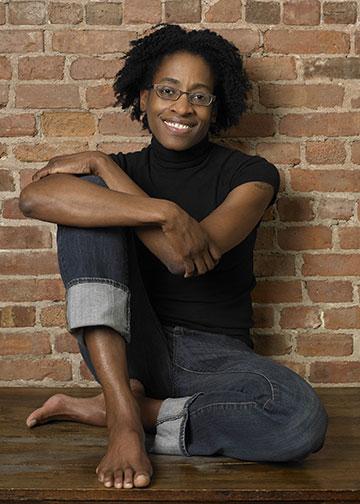 The Association for Library Service to Children (ALSC) announced that the 2017 May Hill Arbuthnot Committee has selected the South Carolina State Library and the city of Columbia, South Carolina to serve as the host site for the 2017 May Hill Arbuthnot Honor Lecture featuring Jacqueline Woodson (pictured). The lecture will be held in the spring of 2017.
In the application to host the lecture, Denise Lyons, deputy director of statewide development of the South Carolina State Library observed, "Ms. Woodson…writes about situations and people…involving serious issues. The issues are not easy; they involve race, ethnicity, sexual abuse, and sexual orientation. Woodson herself stated 'I can't write about nice, easy topics because that won't change the world. And I do want to change the world—one reader at a time.'"
The 2017 Arbuthnot Committee selected Jacqueline Woodson as the lecturer and celebrates her commitment to empower young people and create change in our diverse communities. Woodson is the author of the National Book Award winning memoir in verse, "Brown Girl Dreaming," which was also a recipient of an NAACP Image Award winner (in the category of Outstanding Literary Work for Youth/Teens), Coretta Scott King Author Award, Newbery Honor, Sibert Honor, and may more. Woodson was recently named the Young People's Poet Laureate by the Poetry Foundation. In "Brown Girl Dreaming," Woodson observed that her childhood experiences in South Carolina were about a different time in the state's history. It may have been a different time but those experiences continue to resonate in the South Carolina and in the United States of today.
The May Hill Arbuthnot Lecture celebrates May Hill Arbuthnot, who served as a strong voice for children's literature. Each year a lecturer is chosen who will prepare a paper considered to be a significant contribution to the field of children's literature. This paper is delivered as a lecture each spring, and is subsequently published through Children & Libraries, the journal of ALSC. ALSC established the lecture series in 1969 with sponsorship from Scott, Foresman and Company. The lectureship is now funded by the ALSC May Hill Arbuthnot Lecture Endowment, and administered by ALSC.
ALSC, a division of the American Library Association, is the world's largest organization dedicated to the support and enhancement of library service to children. With a network of more than 4,000 children's and youth librarians, literature experts, publishers and educational faculty, ALSC is committed to creating a better future for children through libraries. To learn more about ALSC visit www.ala.org/alsc.
Members of the 2017 Arbuthnot Honor Lecture Committee are: Chair Ellen Hunter Ruffin, University of Southern Mississippi, Hattiesburg, Mississippi; Barbara A. Genco, Brooklyn, New York; Jessica Tackett MacDonald, Boston Public Library; Susan Person, Mamie Doud Eisenhower Public Library, Broomfield, Colorado; and Danielle A. Shapiro, Brooklyn (New York) Public Library.
For more information, please contact Denise Lyons at dlyons@statelibrary.sc.gov or 803-734-6061.