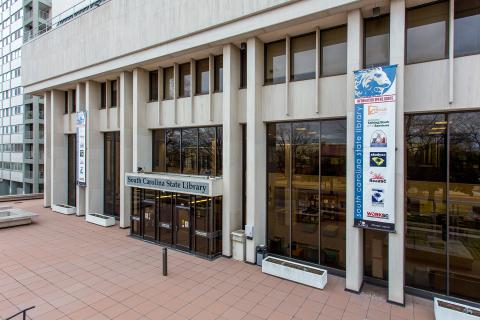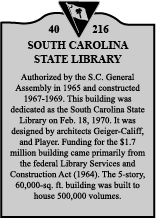 This month our 52-year-old building became part of the National Register of Historic Places. Managed by the National Park Service under the Secretary of the Interior, this registry is the official list of places in the United States that are worthy of preservation. Our library joins the list, including more than 1,500 historic places in South Carolina. The designation recognizes the State Library's architecture. Large shapes made from raw concrete, known as beton brut, represents Brutalism, a style of architecture that became popular in the 1960s.
Dedicated in February 1970, the five-story, 60,000-square-foot building was designed by architects Geiger-Califf, and Player to house 500,000 volumes. Today, it hosts government documents and materials about South Carolina and its history and a team of employees working to support libraries in our state.
The marker outside the building at 1500 Senate Street in Columbia signifies the State Library as being a part of the Department of Archives and History's Historical Marker Program. Approximately 1,900 places in the Palmetto State are designated as important to an understanding of South Carolina's past, either as the sites of significant events, or at historic properties such as buildings, sites, structures, or other resources significant for their design, as examples of a type, or for their association with institutions or individuals significant in local, state, or national history.