Image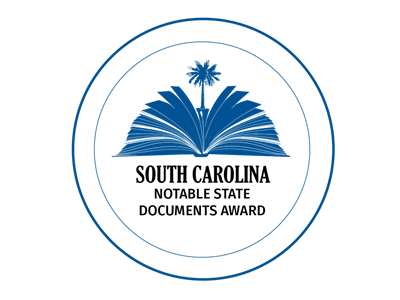 The South Carolina State Library is pleased to announce the selection of the most notable South Carolina State Documents of 2022. Government documents come in a variety of formats and winning categories including state agency monographs, serials, and websites or apps. Winners of the South Carolina Notable State Documents awards are announced in honor of Freedom of Information Day, which occurs annually on March 16. These noteworthy publications call attention to the most informative documents released by state agencies in 2022. Awards will be presented to the winning agencies and authors in a ceremony to be held at 10:00 a.m. at the State Library on March 15, 2023.
Nominations for the Notable Documents Awards were submitted throughout the year, with final candidates being judged by a panel of librarians and state employees. Candidates were judged based on their designs, writing styles, and breadth of information. The judges chose a unique group of twelve documents and websites for recognition, including a strategic plan for optimizing South Carolina's early childhood system, a student journal that showcases academic excellence, and a website developed by the state agency charged with ensuring the election process is fair, impartial, and easily accessible for everyone in our state.
Leesa Aiken, South Carolina State Library director said, "South Carolina state documents provide a wealth of information, statistics, and share a broad range of knowledge about our state. I am pleased that we are able to publicly recognize these important publications and websites as notable documents and it is my hope that all South Carolina state agencies continue to produce high quality documents such as these."
Monographs (physical or born digital)
Serials
Websites
South Carolina Department of Consumer Affairs Website (consumer.sc.gov) I South Carolina Department of Consumer Affairs.
Established in 1974, the South Carolina Department of Consumer Affairs is the state consumer protection agency. The Department helps to formulate and modify consumer laws, policies and regulations; regulates the consumer credit marketplace; resolves complaints arising out of the production, promotion or sale of consumer goods or services in South Carolina, and promotes a healthy competitive business climate. A special highlight of the site is access to the weekly Wednesday Webinar series on a variety of topics related to ID theft, and scams and financial literacy.
KnowItAll.org I South Carolina Educational Television.
KnowItAll.org features over 9,000 mobile-friendly videos, worksheets, and interactives for preK-12. It also includes teacher lesson plans that meet SC education standards, along with topic-based content for one-to-one teaching and learning in classrooms. It is funded by the S.C. General Assembly through the K-12 Technology Initiative.
South Carolina Election Commission Website (scvotes.gov) I South Carolina Election Commission.
Every Vote Matters. Every Vote Counts. The mission of the State Election Commission is to ensure every eligible citizen has the opportunity to register to vote and participate in fair and impartial elections with the assurance that every vote will count! The South Carolina State Election Commission helps uphold democracy by ensuring the election process is fair, impartial, and easily accessible for everyone in our state.